Provisioning for Yacht Charters in Tonga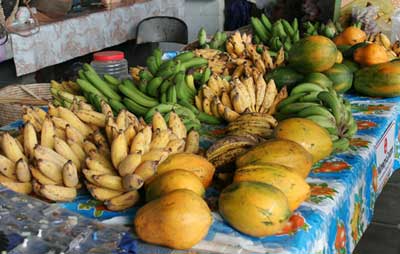 We believe that the ability to choose a vacation menu suited to your individual party's tastes is one of the characteristics of a successful and enjoyable sailing vacation. We use regional suppliers for freshness and along with your favorite staples from home, we integrate local culinary flavors into each provisioning package to bring the ambience of your destination alive.
Complimentary Care Package
When you arrive on board, you will find our complimentary Moorings Care Package to help you to get started, including ice, paper towels, garbage bags, matches, bath soap, toilet paper, sponge, dishwashing liquid and insect spray.
Client has two basics choices when provisioning for a charter in Vava'u.
Moorings provisions the boat
You provision the boat (self-provisioning)
The Moorings Provisioning Packages
Full & Split provisioning packages are offered
Personalised Provisioning:
Most Moorings destinations offer our popular Personalised Provisioning plan. This allows you to choose which menus you would like to serve each day, tailoring your meals to your crew's specific preferences and lets you order all the food you need, for any number of people and for any length of charter, in one convenient step. It also offers a selection of entrees that have been prepared in advance, saving you time and effort in the galley.Stores are located directly at the Moorings base. Open during base hours 8.00am to 5.00pm Monday to Friday, 9.00am to 1.00pm Saturdays. Full provisioning available. However base needs 24 hours notice for requests for fresh fruit & veggies.
Easy-On-The-Cook is designed for those who wish to take a break from cooking evening meals. We will deliver to your yacht everything you need for breakfast, lunch and snacks for each day of your charter, and include one dinner with the number of days starting at 6 days and up, allowing you to sample local restaurants or dine on the day's fresh catch the remaining evenings.
Split Provisioning is our most popular option, with standard or personalized packages available at most destinations. This provides breakfast, lunch and snacks for each day of your charter and dinners for about half the evenings you will spend aboard, allowing you to dine onboard more often.
Designed for charterers who want to have a few dinners ashore
On a seven-day charter you would eat out 4 times
This menu includes all breakfast, lunches, snacks and a few dinners
Full Provisioning is available for those who wish to eat ALL meals aboard.
We also offer a wide selection of soft drinks and alcoholic beverages you can order ahead. For last minute items, The Moorings operates fully stocked dockside provisioning and beverage store in Tonga.
Sundowner-Sunriser Package
Provisioning stores may be closed upon your arrival at your Moorings base if you are arriving late or taking an evening start. The Sundowner-Sunriser was designed with this in mind and is delivered the evening of your arrival. This package is sufficient for a party of four and starts your Moorings vacation off with a wine, beer and soda, cheese and crackers, and a bottle of water. Then you can wake up with the Sunriser: coffee, tea, milk, sugar, croissants, butter, jam and fruit juice. This package is available at select destinations, call your Vacation Planning Specialist for more information.

Special Occasions
Celebrating a birthday or wedding? Let us know and we will tailor make a package for the occasion, from special cakes to flowers and champagne. Ask your Vacation Planning Specialist for details, we are here to help.
Located on The Moorings base, Mango Cafe offers catering for every occasion from that late bite on arrival to fully catered weddings. See Mango Cafe menu (pdf)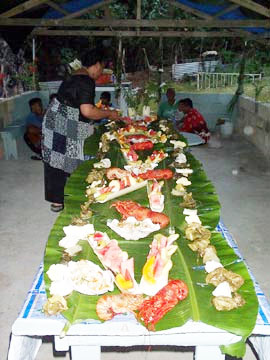 Self Provisioning - other shops (limited availability)
Two small shops near base, the nearest a 10 minute taxi ride away. Both with limited selection. For added colour, one can visit the local market held Monday - Friday. Locals bring a limited selection of homegrown produce to sell and it's recommended one get there early to buy the best produce. A Flea Market is held on Saturday morning.
Your order will need to be at the base at least 14 days before your charter. The base will organise the delivery of your provisions, and have them aboard your yacht, the day of your arrival. For emergency items, there is a supermarket 5mins drive from the Moorings office.
Special dietary requirements - the base personnel are happy to comply with any specials requests but please ensure that these are forwarded to us no later then 14 days prior to the start date.
NOTE
There are no stores open after 12.00 noon on Saturday. The stores will not re-open until Monday morning.
No provisioning in Tongatapu due to the weight restrictions the airlines enforces (20KG).